We are huge fans of summer rolls. This recipe is not really the classic version that you can find in Asian bistros, but it's kind of an inspiration that you can adjust depending on the state of affairs in your fridge.
We were super lazy this time and used some pre cooked duck breasts. Well, but you don't have to do that, in fact, we encourage you not to. You can use chicken leftovers from stock preparation, minced pork or even prawns. In this case, you are only limited by your imagination and courage. We also decided to add some kaeshi sauce: which is normally used with soba noodles, but also goes pretty well with the rolls. We know they wouldn't be very happy about this in Japan. We are sorry, Japan!
For 4 portions
1 duck breast
12 pcs rice paper
1 smaller carrot (sliced)
1/2 kohlrabi (sliced)
4 pcs Chinese mushrooms (soaked in hot water and sliced)
20 g rice vermicelli noodles (cook ahead)
1/2 red bell pepper
salt and pepper 
Salad
50 g Chinese cabbage
50 g red cabbage
10 ml rice vinegar
5 g locust honey
5 g black sesame seeds
10 ml soy sauce 
Kaeshi
20 ml mirin
50 g granulated sugar
80 g Kikkoman soy sauce
Cut squares into the skin of the duck breast and sear it skin side down in a pan. It doesn't have to be hot, in fact, it's better if it warms up gradually, the cooks out better this way. It takes about 5 minutes, then you can cut it into smaller pieces and sear again. Season with salt.
Rice paper is quite easy to use, just moisten it with water, I usually use a bigger plate with small amount of water. Moisten the paper and arrange on it the noodles, mushrooms, veggies and meat. Roll. Just fold in the edges and roll away from you. The more you make, the more confidence you'll have: it's always about the amount of filling and technique.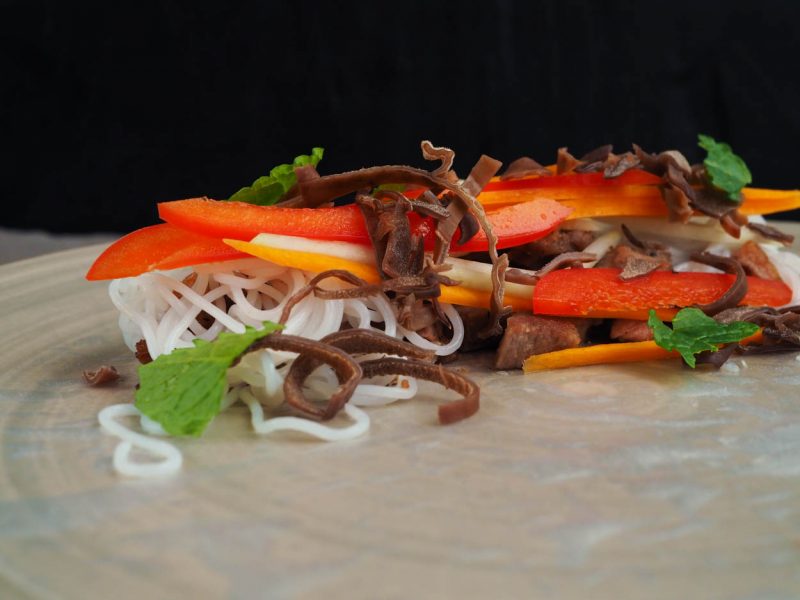 Cut the cabbage thinly and season. You can also use it as a filling.
The last thing you need to make is the sauce: reduce the mirin to half, add sugar and let it dissolve. Add the soy sauce and let it simmer. Serve cold: it can stay in you fridge for several months, so you can also give it a try with soba noodles. Enjoy!